Job Description
Position Details 
Infrastructure and Facilities – College of Medical and Dental Sciences
Location: University of Birmingham, Edgbaston, Birmingham UK
Band 500 –  Full time starting salary is normally in the range £24,291 to £26,094, with potential progression once in post to £30,207
Full Time, Permanent
Closing date:  22 August 2022
Background 
The College of Medical and Dental Sciences comprises 8 academic Institutes that conduct both laboratory and clinically based research and which also deliver a number of undergraduate and postgraduate teaching programmes including Medicine, Dentistry, Nursing and Pharmacy. The College is based in a number of sites both on the University campus and embedded in partner NHS hospital sites.
The Infrastructure and Facilities team provides support across the College to ensure physical facilities and technical resources meet the needs of the College and its constituent Institutes. This includes the provision of specialist practical teaching accommodation and technical support; core services support to provide autoclaving, glass washing and stores; specialist research services including flow cytometry and imaging; the maintenance and development of our estate including collaboration and partnership with University Estates, Campus Services, IT Services and Library Services; technical and laboratory management to our constituent Institutes including specialist support and advice for health and safety management, management and development of research technical staff in partnership with academic principal investigators and the management and support of equipment and space.
This role is part of a wider team of specialist staff supporting the provision of specialist practical teaching facilities. Working alongside colleagues supporting laboratories and clinical skills you will support specialist teaching within our anatomy teaching facilities. These facilities are currently located across several rooms within the Medical School building and are used by a wide range of teaching programmes to train future healthcare professionals.
Job summary
You will provide technical expertise, support, and guidance in support of anatomy teaching.  You may supervise several technical staff but even where you do not directly supervise staff you will still be expected to act as a role model and coach others as appropriate.
You will need a significant understanding of the requirements to deliver undergraduate and postgraduate anatomy classes, an in-depth understanding of all main subject areas, the ability to respond quickly and positively to changes in sessions, and troubleshoot problems, and optimise sessions to ensure a positive student experience.  You may need to operate out of normal working hours to accommodate classes.
In order to flexibly use resource, you may be offered the opportunity to work in different areas of the department or wider university.
Main duties
If in a supervisory position, you will supervise the day-to-day activities of a few other technical staff.
You will provide support and guidance and work closely with your staff in relation to working requirements, working environment, staff wellbeing, identifying any training requirements as appropriate.
Even if you are not in a supervisory position, you will still be expected to act as a role model and coach staff in the locality.
You will discuss the daily programme of work with your manager and other technical staff in the area to ensure the daily programme of work, session protocols and outcomes are clear.
You will plan, based on the available timetabling information, the most efficient/effective means to turnaround the daily classes.
You will research, design, trial & modify practical protocols for class teaching.
Support the Anatomy Manager where required and to deputise for them in their absence.
Keeping the Anatomy Manager/Technical Manager informed as to changes to protocols/sessions, content of any discussions with academic session leads and other matters relating to the Anatomy teaching laboratories.
Initiate discussion with the Anatomy Manager on any issues that may compromise the core function of the Prosectorium and Dissecting areas, or for information that is related to the core functions of the wider anatomy specialist spaces.
Instruct and provide high level technical support for students in the correct and safe handling of laboratory and fieldwork equipment including preparation of samples, analysis methods and preparation techniques.
Preparation of a diverse range of high-quality prosected teaching materials used during practical sessions, to be able to embalm bequests, be able to accurately and reproducibly mix solutions used to embalm or maintain prosected specimens and provide a consistent results delivery service.
Prepare and support open day, Applicant Visitor Day events, Continuous Professional Development and other external requirements within the laboratories or other areas as and when required.
Oversee that the laboratories are suitably prepared for practicals, and the setup/takedown of equipment/materials used during sessions.
Check practical layouts prior to classes and ensure that all requirements are in place.
Be familiar with the use of a broad spectrum of general laboratory equipment and specialised anatomy teaching equipment – including Ultrasound and Anatomage machines.
Demonstrate equipment use, high level techniques and procedures to staff and students.
Trouble-shoot and respond to problems, which may occur during practical sessions, using your in-depth knowledge and your ability to diagnose/resolve problems and suggest solutions.
Health and Safety duties
Proactive support for health and safety within the laboratory.  This may include being required to look after a communal area as part of your duties.  Comply with all current rules and ensure all required assessments are in place, approved and up to date.
Fully understand the safety aspects of equipment operation and be able to demonstrate/train staff (at all levels) on the correct usage of the equipment.
Ensuring that regular maintenance processes are carried out and that appropriate records are maintained.
Reporting any breaches or non-compliance with H&S procedures to the relevant manager(s).
Upholding the correct waste disposal stream as governed by College and local policy for laboratory.
Postholders may be asked to undergo training as a First Aider.
General Administration and Organisation
Ensuring all records are accurate and kept up to date.
Proactively maintain stocks of consumables, and when required generate purchase order requisitions using University systems.
Receipt and correct storage of consumables/equipment and chemical reagents.
Ensuring that the facilities are maintained in a clean, functional, and safe condition, reporting any problems through the appropriate channels.
Ensuring that PAT testing, calibration of equipment and locally and centrally held equipment inventories are up to date and maintained.
Adopt a proactive attitude to assisting with and implementing carbon reduction and energy saving measures.
Maintain a technical support-based teaching laboratory Teams site (holding copies of SOPs, Risk Assessments and COSHH assessments; Prosectorium student worksheets and preparation sheets) and keeping these up to date as and when session requirements or
protocols change.
Other Duties
In collaboration with the relevant manager the post holder will take an active role in the training and mentoring process for junior or newly appointed staff.
Supports equality and values diversity, moderates own behaviour to avoid unfair discriminatory impact or bias on others.
Any other duties as may reasonably be required.
Person Specification
Significant experience of working with and handling deceased body donors and embalmed cadaveric material.
Extensive relevant workplace experience, equivalent professional qualification, or degree in an appropriate subject.
Significant experience of working within a laboratory licensed by the Human Tissue Authority.
Experience of embalming and producing prosecting teaching material.
GCSE level 2 (A*- C/4-9) or equivalent level 2 qualification in mathematics and English.
In-depth practical knowledge of relevant technical and scientific methods.
Extensive experience of similar laboratory-based work, together with familiarity with a wide range of laboratory equipment.
Positive service attitude and shows courtesy in dealing with others.
Ability to organise and manage own workload and demonstrate flexibility in terms of work practices/requirements.
Ability to work under minimal supervision but function as part of a team.
Knowledge of current legislation relevant to the role.
Knowledge of current H&S policies and ability to uphold same.
Proficiency in commonly used software packages.
Understands the importance of equality and diversity in the workplace
Ability to identify and respond to equality and diversity issues in line with relevant policies and procedures
Further particulars can be found here: http://www.download.bham.ac.uk/vacancies/jd/MDSFPs.pdf
For informal enquiries please contact Natasha Russell – Technical Manager (Anatomy and Clinical Skills) n.russell.1@bham.ac.uk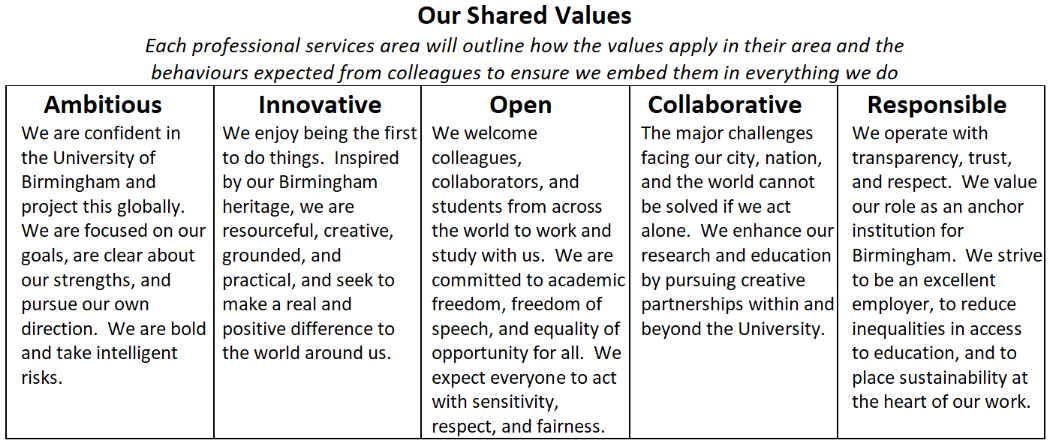 Valuing excellence, sustaining investment 
We value diversity and inclusion at the University of Birmingham and welcome applications from all sections of the community and are open to discussions around all forms of flexible working. 
Primary Location
 GB-GB-Birmingham
Work Locations
College of Medical & Dental Sciences
IBR Wolfson Drive Medical School
University of BirminghamEdgbaston
Organization
 MDS – Infrastructure and Facilities
Job Posting
 31.07.2022, 12:00:00 AM
Grade (for job description)
Band 500
Advert Close Date
 22.08.2022, 11:59:00 PM
Other jobs you may like