Job Description
Position Details
Infrastructure and Facilities – Medical and Dental Sciences
Location: University of Birmingham, Edgbaston, Birmingham UK
Full time starting salary is normally in the range £24,291 to £26,094, with potential progression once in post to £30,207
Band 500
Full Time, Permanent
Closing date: 15th August
Our offer to you
People are at the heart of what we are and do.
The University of Birmingham is proud to have been a part of the City of Birmingham and the wider region for over 100 years, and we are equally proud to be recognised as a leading global university.  We want to attract talented people from across the city and beyond, support them to succeed, and celebrate their success.
We are committed to helping the people who work here to develop through our sector-leading Birmingham Professional programme which provides all professional services staff with development opportunities and the encouragement to reach their full potential.  With almost 5,000 professional services jobs in a wide-range of functions in Edgbaston and in our campus in Dubai, there are plenty of opportunities for you to be able to develop your career at the University.
We believe there is no such thing as a typical member of staff and that diversity is a source of strength that underpins the exchange of ideas, innovation, and debate.  We warmly welcome people from all backgrounds and are committed to fostering an inclusive environment where diversity is at the heart of who and what we are, and how we work.
Supporting our people to achieve a healthy work/life balance is important both to our employees and to the success of the University and, depending on the role, we offer a variety of flexible working arrangements. We therefore welcome discussions on all forms of flexible working.  In addition, you will receive a generous package of benefits including 40 days paid holiday a year, one paid day a year for volunteering, occupational sick pay, and a pension scheme. We also have three high quality subsidised day nurseries.
The University is situated in leafy Edgbaston and there are excellent transport links to our beautiful campus, including main bus routes and a train station on site.  On campus we have a state-of-the-art sports centre with pool, shops, places to eat and drink, our own art gallery, museum and botanical gardens.
Find out more about the benefits of working for the University of Birmingham.
Role Summary
Senior IT Support Technicians will play a key role within a committed IT Support team providing desktop support side – which will involve extensive customer face to face interactions and visits to deskside, primarily providing 2nd line support to staff and students at the University. This role also requires that audio/visual equipment is appropriately maintained and fit for teaching.
Using your knowledge and experience you will be required to analyse problems, identifying the cause and using your judgement to restore function in line with University C&IT standards.   You will need to be able to communicate complex IT technical problems and requirements in an understandable fashion to non-technical staff, including Department managers, academic and administrative staff.
The role will involve working alongside colleagues in the NHS and working with 3rd party vendors.
Main Duties
Desktop Support
Responsibility for managing and supporting desktop resources (hardware and software) for users on campus, including for high profile academic and professional services staff.
Obtaining quotes, specifying and making recommendations for the purchase of computer equipment and software, in conjunction with senior team members.  To make recommendations on a Value for Money basis whether to repair, upgrade or replace hardware and software in line with overall strategy and standards.
Liaising with external companies and contractors to ensure prompt and adequate service, resolving issues as appropriate.
Initiating approved disposal mechanisms for redundant hardware.
Recommend provision of additional network points and undertake IP registration of desktop equipment.
Playing a key role in the planning and delivery of important projects, e.g.  the rollout of replacement staff PCs, visiting members of staff, analysing and specifying requirements, assisting with PC procurement, and installing and configuring PCs to customer requirements in accordance with IS standards.
Proactively liaising with other members of the team on the delivery of sub-sets of major projects, to ensure that each part of the project is completed on time and does not adversely impact on the overall plan e.g. the roll out of a new application suite to a department.
Ensuring client desktop connectivity to the campus network in accordance with the University's networking standards, policy and infrastructure.
Setting up new users, printers and general system administration to ensure access to all networked servers and systems.
Monitoring the performance of desktop PCs and associated services to ensure reliability and smooth operations of IT systems that are required for all aspects of the work of the customer base as a whole.
Assisting with the monitoring of central backup services to ensure the security and integrity of the information store.
Providing 1-to-1 training and advice to PC users, either verbally or via written documentation.
General
You will be responsible for determining your own priorities for your workload, and for ensuring you co-ordinate with other team members to meet overall ITS priorities.
Proactively liaising with members of other technical teams to aid in the timely resolution of IT faults, ensuring resolution details are recorded for future reference.
Troubleshooting problems, some of which may require in-depth knowledge, and developing and implementing solutions on own initiative.  You will need the skills and experience to work on your own initiative, to assess problems and judge the appropriate solution, referring to more senior team members for in-depth specialist advice as you judge necessary.
You will use your in-depth knowledge to be fully conversant with all areas of desktop IT support.
Specific to the School of Dentistry, you will also need to maintain the audio/visual equipment throughout the school, ensuring that the facilities are fit for teaching.
Manage room bookings for the School of Dentistry which will involve liaising with staff and utilising existing timetabling systems.
Developing specialist knowledge in one or more areas within the team.  This will allow you to provide training to others (including customers), and ensure all job-related knowledge is documented and available to all colleagues.  You will write articles for the IT Service Desk Knowledge Base, and/or developing server skills where appropriate.
Making an important contribution to the collective knowledge of the team by staying up-to-date with new technology, and maintaining an up-to-date overview of hardware and software relating to teaching and learning at the University.
You may be required to occasionally cover for colleagues offering first line support.
Undertaking such other duties as may be required from time to time in furtherance of the work of IT Services.
Supporting equality and values diversity, moderates own behaviour to avoid unfair discriminatory impact or bias on others.
Person Specification
5 GCSEs at grade C/4 or above, including Mathematics and English (or equivalent level 2 vocational qualifications including demonstrable examples of the required level of literacy and numeracy).
Significant experience and expertise, likely to be demonstrated by building on experience in a role offering front line support in working on a complex desktop support environment or Service Desk involving user support and triaging of calls, utilising skills from problem analysis through to implementation of solutions.  A Microsoft Certification or other industry recognised IT qualifications would be an advantage.
A good up-to-date general knowledge on current trends in IT.
The ability to work effectively as a member of a team towards quality service goals and deadlines.
Excellent oral and written communication, coupled with a strong customer service orientation, and the ability to tailor responses to specific technical and non-technical audiences.
Ability to prioritise and schedule workload in the face of conflicting demands.
Structured and methodical approach to problem solving.
Knowledge of email and email protocols, and of wired and wireless networking protocols.
Knowledge of security solutions for the protection against and removal of viruses and malware.
A willingness to adopt and champion new ways of working.
A willingness to coach and train colleagues in your own areas of expertise.
Understands the importance of equality and diversity in the workplace.
Ability to identify and respond to equality and diversity issues in line with relevant policies and procedures.
Fully conversant and proficient with:
Microsoft Windows operating systems
Microsoft Office 20xx and MS Outlook (Exchange) Client.
Active Directory.
Specialised knowledge and support experience in any of the following areas would be an advantage:
Mac OS 10.x, SCCM, and Desktop Applications e.g. Adobe Acrobat Professional. Active Directory User management, VB scripting, PC, printers and peripheral hardware, TCP/IP, DHCP and mobile devices (smartphones, tablets etc.)
Some exposure to Linux (specifically Debian derivatives such as Ubuntu and RHEL derivatives such as Scientific Linux and CentOS).
Experience of writing knowledge base articles or other relevant content authoring experience.
Knowledge of mobile devices including tablets and smartphones.
Basic hardware skills.
Some exposure to client and server administration.
Knowledge of ITIL methodology, ideally backed up with a foundation qualification.
Experience of utilising social media in a professional environment.
Further particulars can be found here: http://www.download.bham.ac.uk/vacancies/jd/MDSFPs.pdf
Informal enquires to Jannetta Simpson, email: j.simpson@bham.ac.uk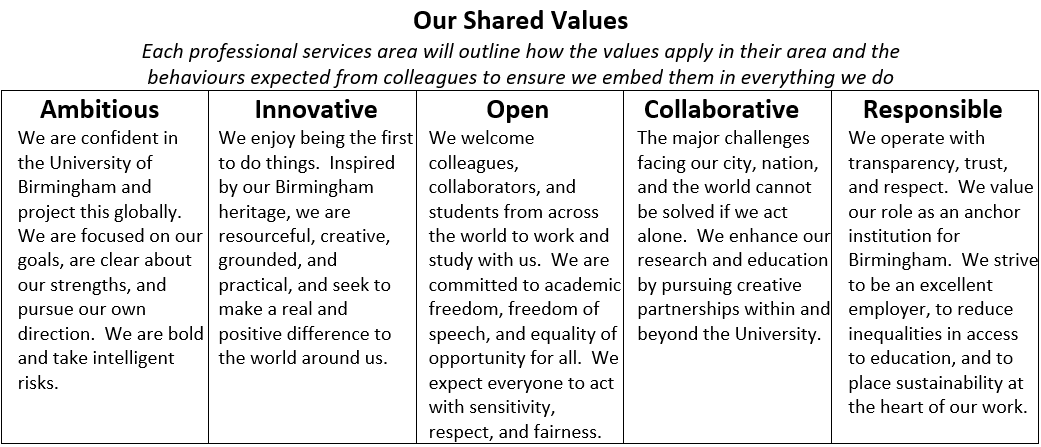 Valuing excellence, sustaining investment
We value diversity and inclusion at the University of Birmingham and welcome applications from all sections of the community and are open to discussions around all forms of flexible working.
Primary Location
 GB-GB-Birmingham
Work Locations
The University of Birmingham
5 Mill Pool Way (off Pebble Mill Road)Edgbaston
Organization
 MDS – Infrastructure and Facilities
Job Posting
 01.08.2022, 12:00:00 AM
Grade (for job description)
Band 500
Salary (Pay Basis)
 24,291.00
Advert Close Date
 15.08.2022, 11:59:00 PM
Other jobs you may like