Job Description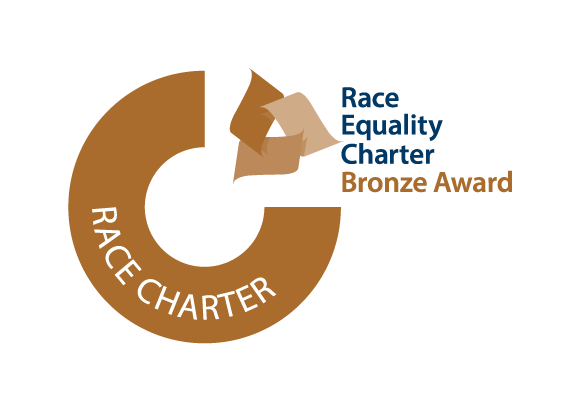 Position Details
Campus Services Marketing
Campus Services
Location: University of Birmingham, Edgbaston, Birmingham UK
Full time starting salary is normally in the range £27,924 to £30,497. With potential progression once in post to £34,304 a year.
Grade 6
Full Time, Permanent, working 5 days out of 7
Closing date: 10 July 2022
Our offer to you
People are at the heart of what we are and do.
The University of Birmingham is proud to have been a part of the City of Birmingham and the wider region for over 100 years, and we are equally proud to be recognised as a leading global university.  We want to attract talented people from across the city and beyond, support them to succeed, and celebrate their success.
We are committed to helping the people who work here to develop through our sector-leading Birmingham Professional programme which provides all professional services staff with development opportunities and the encouragement to reach their full potential.  With almost 5,000 professional services jobs in a wide-range of functions in Edgbaston and in our campus in Dubai, there are plenty of opportunities for you to be able to develop your career at the University.
We believe there is no such thing as a typical member of staff and that diversity is a source of strength that underpins the exchange of ideas, innovation, and debate.  We warmly welcome people from all backgrounds and are committed to fostering an inclusive environment where diversity is at the heart of who and what we are, and how we work.
Supporting our people to achieve a healthy work/life balance is important both to our employees and to the success of the University and, depending on the role, we offer a variety of flexible working arrangements. We therefore welcome discussions on all forms of flexible working.  In addition, you will receive a generous package of benefits including 40 days paid holiday a year, one paid day a year for volunteering, occupational sick pay, and a pension scheme. We also have three high quality subsidised day nurseries.
The University is situated in leafy Edgbaston and there are excellent transport links to our beautiful campus, including main bus routes and a train station on site.  On campus we have a state-of-the-art sports centre with pool, shops, places to eat and drink, our own art gallery, museum and botanical gardens.
Find out more about the benefits of working for the University of Birmingham.
Background
The University of Birmingham is a global institution working within a diverse and vibrant City, offering an inspiring education to our students, and undertaking critically important research.  We are a place of open, critical thinking, and the creation, sharing and dissemination of knowledge.  Professional Services play a crucial role in this by providing outstanding support to our researchers, enable an exceptional educational experience for our students, and help the University to grow its influence regionally, nationally, and globally.  They ensure the University's resources are used wisely, manage and improve the infrastructure which sits at the heart of the institution, and support decision to be made quickly and based on sound evidence.  Our Birmingham Professional programme operates across the University, supporting colleagues to network and collaborate, offering opportunities to learn and develop, contributing to the delivery of the University's objectives, and helping everyone to understand the broader context within which we work.
Campus Services is responsible for a very large range of services within the University of Birmingham: student accommodation, catering, cleaning and waste management, conferences and events, delivering the University's post, day nurseries, security, Winterbourne House & Garden, ensuring we remain at the pinnacle of University sport in the UK and more.
Role Summary
The successful candidate will work within the busy Campus Services Marketing team supporting all areas of Campus Services.  We work across a variety of audiences, clients and sectors – including hospitality and leisure, retail, B2B and B2C.  We deliver high quality, innovative solutions across creative, design, digital, media and in print.
This role is key to the team's success, developing multi-media creative ideas across a variety of disciplines for high profile and/or strategically important projects.  The postholder will be a specialist in design to lead our creative offering to respond to client needs now and in the future.
You will be responsible for leading the generation of creative ideas for multi-discipline campaigns – producing the very best solutions to help solve client challenges.  You will be responsible for developing ideas and concepts to respond to a brief with an open mind – including but not limited to design, media, digital and in print.
You will have the support of a team of internal specialists in strategy, digital and copywriting to help in making big ideas a reality, however you will be able to ideate cross-discipline and have a passion for creative no matter what the discipline.
You will be passionate about creative, digital media and technology, keep abreast of the latest innovations and trends, continuously develop your skillset and pro-actively put forward ideas to support clients' challenges and drive business growth.
You will work closely with External Relations and Creative Media to ensure projects are aligned with the university brand.  You may also be required to complete work led by either of those two areas.  You will also support academics with conference bids often working to a tight deadline.
Main Duties
Creative and Content Production
Will use vision to deliver original, highly innovative, multi-disciplined creative solutions to meet client brief within budget.  This will include;
•    effectively interpreting briefs, researching audiences and developing solutions
•    strong idea generation from scamps through to concept development and visual mock-ups
•    storyboard and develop outline scripts ideas
•    write and edit copy
Lead on the content creation for high profile, strategic projects including developing pitch presentations for new business.
Management of a junior graphic designer and responsible for overseeing the team's creative projects from ideation to delivery.
Producing high quality, accurate final files to print and digital specifications, including checking proofs, archiving and filing to the server on a daily basis.
As a technical expert you will advise on all areas of design, including scoping projects, equipment, software and feeding into the review and enhancement production and working processes.
The role is a task and project driven role that may require work outside of core hours and is driven by schedules and by delivery deadlines. The post holder may therefore be required to work both flexible and extended hours to deliver.
Relationships
Confidently communicate to clients and internal teams, active participation in briefing and feedback meetings, leading on advising from a concept and design perspective.
Work closely with and support the Account Management team and attend client meetings to review client briefs, develop ideas and assess or advise on project resource and requirements.
Responsible for training and developing the junior graphic designer's skills and assisting with the continual development and enhancement of the team's creative expertise, including knowledge sharing.
Respond to feedback in an appropriate manner, listening and providing advice.
Ensure content is accessible to all end users, the regulatory and legal requirements when using media assets such as copyright and intellectual property rights are met, web accessibility is optimised; all content is backed up and archived, and adheres to University brand guidelines.
Support and contribute to developing the marketing team's reputation, including sharing knowledge, regular contributing to blogs etc.
Act as a role model to other members of the team in championing Campus Services values and behaviours.
Engage with the performance development review process, ensuring staff attend regular meetings and participate in full team briefings as appropriate.
Absence management and reporting any disciplinary matters and taking appropriate action.
Innovation
Identify new innovation opportunities to support growth for our clients in Campus Services – through regular horizon scanning and networking to stay abreast of the latest emerging trends and innovations, turning these into recommendations which can be pitched to clients, working with the Head of Marketing and Communication.
Identify opportunities for Campus Services marketing to support University objectives by seeking and building relationships with staff across the University as well as external contacts, including developing, maintaining and using professional networks.
Continuously develop own skillset to ensure the team's creative and design offering meets the needs of the clients now and in the future.
Undertake continuous personal and professional development and develop others as appropriate through the Performance and Development Review process.
General
Represent Campus Services Marketing at appropriate committees and other meetings, both internally and externally as required.
Promote equality and values diversity acting as a role model and fostering an inclusive working culture.
Support new projects within the Campus Services as specified by the Head of Marketing and Communications.
Provide support for manager(s) in promoting sustainability across the University, supporting the ISO20121 event management standard.
Any other duties as required by the Head of Marketing and Communication.
Required Knowledge, Skills, Qualifications, Experience
A degree level qualification in a relevant area or equivalent qualifications or significant practical relevant equivalent work experience in graphic design, digital and media
A high level of experience with industry standard packages, including Adobe Creative Cloud, Aftereffects, InDesign Photoshop, Illustrator, Premier Pro, Acrobat and Presentation software, as well as Microsoft Office/PowerPoint to create, edit and post produce content and assets.
A thorough understanding of graphic design, typography and digital standards
Knowledge of website interface design and usability, HTML, CSS, Dreamweaver
Experience of using Content Management Systems and publishing web content using a CMS
Good understanding of web content accessibility guidelines (WCAG) accessibility regulations and creating with accessibility in mind so that content meets or exceeds AA legal accessibility guidelines
Moderate skills to be able to produce basic animations, films (e.g. talking heads) and social media videos.  Basic film and photography experience are desirable
Project management skills including project budget management
Pitch experience, awareness of 3D and XR are desirable
Skills/Attributes required:
Significant proven experience in industry, agency experience is essential
A passion for creating content and continuously developing knowledge and skillset
Confident communicator, able to clearly convey complex ideas or technical details and sell them to the client and internally
Ability to perform in a fast-paced environment on multiple projects and keep calm and focused under pressure
Exceptional attention to detail, maintaining high standards and brand consistency
Good time management, taking projects from concept through to delivery, on budget and to deadline
All round knowledge of design processes, including in-depth technical knowledge and user experience
Pro-active – researching new services/new ways of doing things and proven experience of implementing them
Excellent interpersonal skills and a 'can-do' problem solving attitude to build and maintain positive relationships
Line management experience is desirable
Role context
Roles at this level will require expertise and a detailed understanding of methods, systems and procedures in an administrative or professional area.  You will either use specialist knowledge or have more of a planning/co-ordination/project role or a role which is supervisory in nature where you may manage a team doing similar kinds of work.  You will have the opportunity to exercise a high degree of personal responsibility and initiative which you will use to resolve queries; you will use your judgement to deal with unforeseen problems and circumstances, all with limited guidance/supervision.
Core competencies/transferable skills
Working at this level you will be able to develop and successfully use the core competencies/transferable skills outlined in each of the areas shown below.  As appropriate for the level, our Birmingham Professionals will take ownership for getting things done.   You will be expected to be flexible as required in supporting your department and wider University.
Planning and organising
prioritise and schedule work and resources to ensure on time and (where applicable) on budget delivery;
set priorities and quality standards for a wide range of tasks and duties;
manage a team of staff who are carrying out similar kinds of work;
contribute to written documents, for example guidelines internal to the area, taking account of audience;
operate with limited supervision as they will have considerable scope for initiative, within established work procedures.
Problem solving and decision making
anticipate and identify issues in own area based on experience;
make appropriate suggestions for improvements and implement these when agreed in own area;
facilitate change, and articulate the implications and benefits of change to others;
focus on determining short-term priorities of work area, and how to maximise quality, efficiency and continuity.
Organisational understanding
quickly develop an understanding of their working area and how it contributes to the success of the University;
display an interest in how the University operates beyond own working area; develop and share this knowledge with others.
Relationships and communication
develop and maintain excellent working relationships in own area, and more widely as required for collaborative working opportunities;
communicate clearly and openly with others both within and external to the University, and use a range of communication skills and strategies to gain commitment to a course of action;
demonstrate collaborative working at all times, including with others outside the immediate work area.
Informal enquires to Frances Mann, email: f.m.mann@bham.ac.uk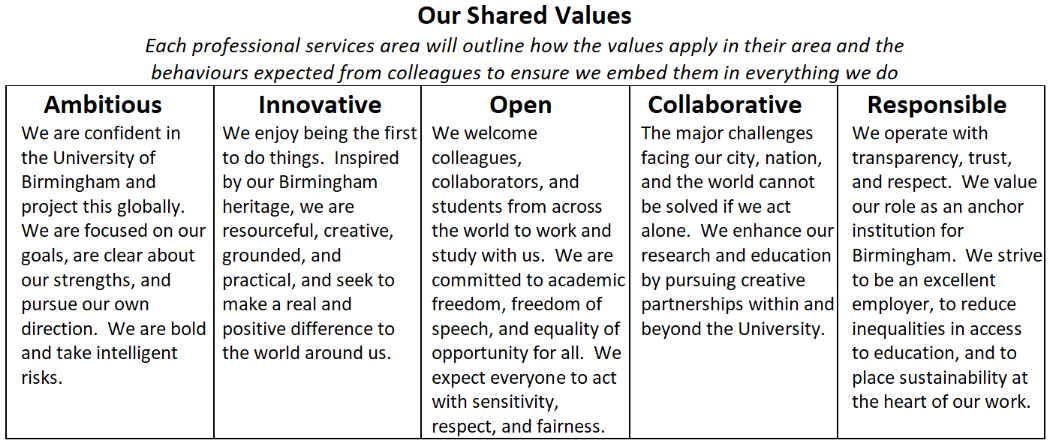 Valuing excellence, sustaining investment
We value diversity and inclusion at the University of Birmingham and welcome applications from all sections of the community and are open to discussions around all forms of flexible working.
Primary Location
 GB-GB-Birmingham
Work Locations
Conference and Events Office
University Centre
The University of BirminghamEdgbaston
Job
 Specialist/Professional
Organization
 Campus Services
Job Posting
 20.06.2022, 12:00:00 AM
Grade (for job description)
Grade 6
Advert Close Date
 10.07.2022, 11:59:00 PM