Job Description
Position Details
School of Psychology
Location: University of Birmingham, Edgbaston, Birmingham UK
Full time starting salary is normally in the range £24,291 to £26,094, with potential progression once in post to £30,207. As this vacancy has limited funding the maximum salary that can be offered is £24,291.00
Band 500
Part Time – 50%FTE
Fixed term Contract for up to Twelve Months
Closing date:  28.8.2022
This role is also open as an internal secondment opportunity which would need to be agreed by your current line manager.
Our offer to you 
People are at the heart of what we are and do.
The University of Birmingham is proud to have been a part of the City of Birmingham and the wider region for over 100 years, and we are equally proud to be recognised as a leading global university.  We want to attract talented people from across the city and beyond, support them to succeed, and celebrate their success.
We are committed to helping the people who work here to develop through our sector-leading Birmingham Professional programme which provides all professional services staff with development opportunities and the encouragement to reach their full potential.  With almost 5,000 professional services jobs in a wide-range of functions in Edgbaston and in our campus in Dubai, there are plenty of opportunities for you to be able to develop your career at the University.
We believe there is no such thing as a typical member of staff and that diversity is a source of strength that underpins the exchange of ideas, innovation, and debate.  We warmly welcome people from all backgrounds and are committed to fostering an inclusive environment where diversity is at the heart of who and what we are, and how we work.
Supporting our people to achieve a healthy work/life balance is important both to our employees and to the success of the University and, depending on the role, we offer a variety of flexible working arrangements. We therefore welcome discussions on all forms of flexible working.  In addition, you will receive a generous package of benefits including 40 days paid holiday a year, one paid day a year for volunteering, occupational sick pay, and a pension scheme. We also have three high quality subsidised day nurseries.
The University is situated in leafy Edgbaston and there are excellent transport links to our beautiful campus, including main bus routes and a train station on site.  On campus we have a state-of-the-art sports centre with pool, shops, places to eat and drink, our own art gallery, museum and botanical gardens.
Find out more about the benefits of working for the University of Birmingham
Background
Launched at the University of Birmingham, the programme will work with young adult students to support their recovery while surrounded by the social demands of a typical university. The new programme is based on a model which has been highly successful in the USA. It offers peer-led support, with students using drop-in services, taking part in peer support meetings, creating abstinent social activities, and developing opportunities for volunteering and service to the local community. The programme includes five key elements:
Recovery Support – An on-campus space for support group meetings, providing students with a peer group that can also provide insulation from pressure to take part in drinking, substance use or other problematic behaviours
Educational support – Advice and assistance to help students navigate their way through university application, admission and on-going learning.
Peer support – a series of seminars aimed at relapse prevention, building a social support network, and a range of health and wellbeing issues.
Family support – Education and support to help recovering students live outside of their family supervision.
Community support – social activities that are alcohol and substance free, and designed to support recovery, along with volunteering projects aimed at helping the local community.
Job summary
As a senior administrator within a team/department you will provide support for a broad range of administrative duties, some of which may be complex.  You may also be responsible for managing other staff or for supporting colleagues and sharing knowledge.  You will be able to use your wide range of skills, both technical and administrative, and have the opportunity to lead on specific tasks within a team.  In order to flexibly use resource you may be given the opportunity to work in different areas of the department or wider University.
Senior Administrators may work in any area of the University; with large groupings in HR, Finance, and School/College Hubs.
Main duties
You will be able to deal with complex systems and procedures and will be expected to offer advice on these, including deciding on the response to more complex queries.
You will be expected to exercise your judgment on the answer to queries or on the direction of work within parameters set by your manager.  On a day to day basis you will be expected to resolve more complex queries without necessarily referring to your manager.
Maintain high profile working relationships with key stakeholders on your own initiative, fielding enquiries and ensuring that appropriate information is disseminated to stakeholders as appropriate.
You may be involved in organising events including booking a venue, sending invitations, arranging refreshments, liaising with speakers, manage bookings, co-ordination of colleagues, advertising, collating feedback and reporting back.
Supporting the development and delivery of multi-channel communication activities to key stakeholders (e.g. current students and targeted staff).
Coordination of communications briefings, web pages, newsletters and social media campaigns, as appropriate.
Working with internal teams to deliver social media activity.
Developing content for webpages which will include you regularly reviewing pages and ensuring content is suitable for target audiences.
Will manage some smaller projects on own initiative, but will also carry out desk research and source data from internal and external sources in order to contribute to wider projects.
You will be expected to use a variety of complex University systems and processes to research, analyse and interpret complex data, producing bespoke reports as required.  .  This may include identifying and resolving issues with the data.
Support the management, development and implementation of operational processes and systems.
Process more complex data (which may be financial, HR, student-related or other), monitoring accuracy, chasing up missing information, and resolving any issues as appropriate.
Provide specialist advice and training to colleagues on area of activity.
As required, provide a professional secretarial service to relevant committees and meetings.
You may be required to be responsible for one or more of the following:

monitoring budgets including processing payments, authorising expenditure, raising concerns where finances are not in line with the budget,
procuring goods and services through the University system,
updating and writing contents for the department's communications eg intranet pages,
dealing with health and safety and facilities issues,
HR-related tasks such as managing staff absence, induction, or dealing with leavers
dealing with arrangements for international visitors
monitoring internal procedures/compliance and ensuring these are followed and disseminated as appropriate.

Supports equality and values diversity, moderating own behaviour to avoid unfair discriminatory impact or bias on others.
Person Specification
*We welcome applicants with lived experience of recovery*
Educated to A Level standard, or equivalent level 3 qualification such as a Level 3 NVQ, or level 3 national diploma or relevant work experience evidencing the skills and ability to undertake the role.
Minimum of grade C/4 in Mathematics and English at GCSE or equivalent.
Highly proficient IT skills, in particular the ability to handle complex electronic diaries and emails, the wider MS Office suite of programmes including excel and powerpoint, and some experience of using an enterprise resource planning package. The post holder should also be confident and able to quickly learn new IT skills and software packages as required.
Proven ability to plan ahead and anticipate requirements, proactively planning own (and sometimes others' workloads) to manage time effectively, progress tasks concurrently and work to deadlines.
Excellent verbal and written communication skills, including the ability to write for different audiences, and to required deadlines.
Excellent interpersonal skills. The postholder must inspire confidence and command authority with a range of colleagues and provide excellent customer service at all times.
A high degree of professionalism, tact, and diplomacy, and the ability to exercise discretion regarding the handling and management of sensitive information/issues.
A high degree of initiative, personal judgement, resourcefulness, flexibility, and a self-motivating approach.
Ability to work effectively in a large, complex organisation, and to develop a good understanding of how the University and higher education institutions work.
Ability to understand policy and procedures and how to apply these.
Understands the importance of  equality and diversity in the workplace.
Ability to identify and respond to equality and diversity issues in line with relevant policies and procedures.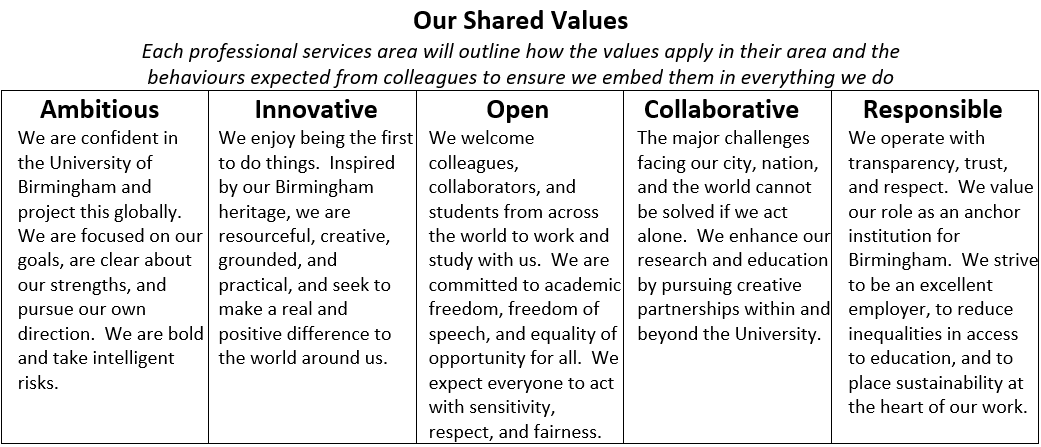 Valuing excellence, sustaining investment 
We value diversity and inclusion at the University of Birmingham and welcome applications from all sections of the community and are open to discussions around all forms of flexible working. 
Primary Location
 GB-GB-Birmingham
Job
 Clerical/Administrative
Job Posting
 29.07.2022, 12:00:00 AM
Grade (for job description)
Band 500
Salary (Pay Basis)
 24,291.00
Advert Close Date
 28.08.2022, 11:59:00 PM
Fixed Term Contract End Date
02.10.2023
Other jobs you may like