Job Description
Position Details
Careers Network
Location: University of Birmingham, Edgbaston, Birmingham UK
Full time starting salary is normally in the range £27,924 to £30,497, with potential progression once in post to £34,304.
Grade 6
Full Time, Permanent
Closing date: 17th August 2022
Our offer to you
People are at the heart of what we are and do.
The University of Birmingham is proud to have been a part of the City of Birmingham and the wider region for over 100 years, and we are equally proud to be recognised as a leading global university.  We want to attract talented people from across the city and beyond, support them to succeed, and celebrate their success.
We are committed to helping the people who work here to develop through our sector-leading Birmingham Professional programme which provides all professional services staff with development opportunities and the encouragement to reach their full potential.  With almost 5,000 professional services jobs in a wide-range of functions in Edgbaston and in our campus in Dubai, there are plenty of opportunities for you to be able to develop your career at the University.
We believe there is no such thing as a typical member of staff and that diversity is a source of strength that underpins the exchange of ideas, innovation, and debate.  We warmly welcome people from all backgrounds and are committed to fostering an inclusive environment where diversity is at the heart of who and what we are, and how we work.
Supporting our people to achieve a healthy work/life balance is important both to our employees and to the success of the University and, depending on the role, we offer a variety of flexible working arrangements. We therefore welcome discussions on all forms of flexible working.  In addition, you will receive a generous package of benefits including 40 days paid holiday a year, one paid day a year for volunteering, occupational sick pay, and a pension scheme. We also have three high quality subsidised day nurseries.
The University is situated in leafy Edgbaston and there are excellent transport links to our beautiful campus, including main bus routes and a train station on site.  On campus we have a state-of-the-art sports centre with pool, shops, places to eat and drink, our own art gallery, museum and botanical gardens.
Find out more about the benefits of working for the University of Birmingham.
Background
The University of Birmingham is a global institution working within a diverse and vibrant City, offering an inspiring education to our students, and undertaking critically important research.  We are a place of open, critical thinking, and the creation, sharing and dissemination of knowledge.  Professional Services play a crucial role in this by providing outstanding support to our researchers, enable an exceptional educational experience for our students, and help the University to grow its influence regionally, nationally, and globally.  They ensure the University's resources are used wisely, manage and improve the infrastructure which sits at the heart of the institution, and support decision to be made quickly and based on sound evidence.  Our Birmingham Professional programme operates across the University, supporting colleagues to network and collaborate, offering opportunities to learn and develop, contributing to the delivery of the University's objectives, and helping everyone to understand the broader context within which we work.
Role Summary
This is an exciting opportunity to join Careers Network (CN) as we build on the successes of two key institutional undergraduate employability programmes: the Personal Skills Award (PSA) and the Birmingham Project (BP).
The successful candidate will join a busy and fast-paced team, bringing with them their project management, relationship building and client management skills, as well as their experience in developing student promotional materials. The postholder will utilise their demonstrable communication skills to build relationships across the institution, as well as with employer supporters, to support and develop the programmes further in collaboration with the team.
The postholder will lead in the delivery of the Birmingham Project: a multidisciplinary 'challenge' for first-year undergraduates. This will include: events management, student recruitment, stakeholder relations, and the management of student staff to ensure effective delivery of the programme. The successful candidate will also make a significant contribution to the Personal Skills Award: the University's skills award with c.2000 students. This includes: the creation of student recruitment materials to reach specific audiences, working with stakeholders to formally recognise extra-curricular activities on the programme, supporting the assessment of students, and answering student enquiries.
This is a key time to join the team as we future proof the two successful programmes and ensure their future accomplishments in line with Careers Network's new employability strategy. We look forward to welcoming the successful candidate into Careers Network at this exciting time.
Main Duties
Devise, promote and deliver an engaging annual programme of activities and events that meet the needs of students. This may include creating promotional campaigns, recruitment of academics to support the programmes, employer recruitment and liaison, event management, hosting student query drops-ins, delivering small and large group presentations and training sessions, as examples.
Identify the requirements and desires of current students to inform a student experience offering. This is likely to be through feedback, surveys, focus groups, data analysis, and conversations with students and relevant committees.
Provide helpful, accurate and expert advice to prospective and current students on the programmes, tailoring the communications for each student to ensure it meets their needs.
Support students to take ownership of their learning, for example through the development of digital resources including VLE courses, website pages, and usage of appropriate systems.
Contribute to the management of 80+ stakeholders across the programmes to ensure quality assurance.
Share communications and act as a key conduit to students and staff, to ensure that everyone is well-informed and knows how they can participate and/or deliver on the programmes.
Contribute to the management of assessments on the programmes; for example: receiving and returning assessed work to students; liaising with markers; co-ordinating assessment panels; and undertaking directed marking of students assessed work.
To support Project Boards, workstreams and working groups within an overall project or manage small projects on own.
Support will include preparing progress reports for project boards (where they are held), project planning, and delivering on sub-projects/small projects which will be defined on a continuing basis.
Draw up project plans, including key performance indicators, identifying milestones as appropriate.
Appropriately assess and escalate issues and risks.
Assist in the evaluation and review of projects.
Promotes equality and values diversity acting as a role model and fostering an inclusive working culture.
Supports the University's sustainability agenda through resource efficient working.
Any other duties commensurate with the grade.
This position will line manage occasional casual student-staff to support projects, including the line management of Postgraduate Teaching Associates to support the Birmingham Project (for four weeks annually).
Person Specification
Qualified to UK level 5 (e.g. Foundation degree, HND) or equivalent.
Demonstrable understanding of the student and graduate experience and current issues impacting on employability.
Strong understanding of the student experience, issues, and the student lifecycle.
Substantial experience of project management, preferably in an academic setting.
Knowledge and experience of organising events.
Knowledge and experience of creating tailored and segmented communications for participant recruitment, preferably for a particular programme/s or events, including via social media platforms.
Demonstrable experience of proactively responding to diverse stakeholder needs to deliver an exceptional service/experience.
Evidence of delivering a high-quality service in a customer-facing role, preferably in the Higher Education setting.
Experience of supporting learners.
Excellent IT skills, with working knowledge of standard Microsoft Office software and using custom systems and databases.
Evidence of literacy and numeracy, with the ability to write clearly, and to analyse information and data.
Strong attention to detail.
Knowledge of the protected characteristics of the Equality Act 2010, and how to actively ensure in day-to-day activity in own area that those with protected characteristics are treated equally and fairly.
Informal enquires to to Sarah Watts (s.e.watts@bham.ac.uk) or Robyn Murply (r.murphy.2@bham.ac.uk)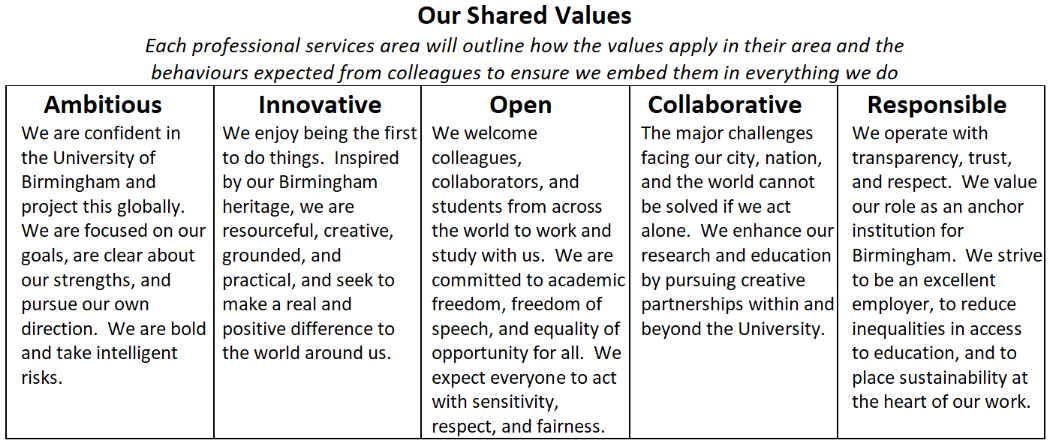 Valuing excellence, sustaining investment
We value diversity and inclusion at the University of Birmingham and welcome applications from all sections of the community and are open to discussions around all forms of flexible working.
Primary Location
 GB-GB-Birmingham
Job
 Clerical/Administrative
Organization
 Academic Services
Job Posting
 27.07.2022, 12:00:00 AM
Grade (for job description)
Grade 6
Salary (Pay Basis)
 27,924.00
Advert Close Date
 17.08.2022, 11:59:00 PM
Other jobs you may like