Job Description
PROJECT OFFICER- School of Chemical Engineering – 99740
Position Details
School of Chemical Engineering in the College of Engineering and Physical Sciences
Location:  University of Birmingham, Edgbaston, Birmingham, UK
Full time starting salary is normally in the range £27,924 to £30,497 with potential progression once in post to £34,304
Grade 6
Full time
Fixed-term until 30 June 2023
Closing Date: 17 July 2022
This post is part funded by the European Regional Development Fund
Our offer to you
People are at the heart of what we are and do.
The University of Birmingham is proud to have been a part of the City of Birmingham and the wider region for over 100 years, and we are equally proud to be recognised as a leading global university.  We want to attract talented people from across the city and beyond, support them to succeed, and celebrate their success.
We are committed to helping the people who work here to develop through our sector-leading Birmingham Professional programme which provides all professional services staff with development opportunities and the encouragement to reach their full potential.  With almost 5,000 professional services jobs in a wide-range of functions in Edgbaston and in our campus in Dubai, there are plenty of opportunities for you to be able to develop your career at the University.
We believe there is no such thing as a typical member of staff and that diversity is a source of strength that underpins the exchange of ideas, innovation, and debate.  We warmly welcome people from all backgrounds and are committed to fostering an inclusive environment where diversity is at the heart of who and what we are, and how we work.
Supporting our people to achieve a healthy work/life balance is important both to our employees and to the success of the University and, depending on the role, we offer a variety of flexible working arrangements. We therefore welcome discussions on all forms of flexible working.  In addition, you will receive a generous package of benefits including 40 days paid holiday a year, one paid day a year for volunteering, occupational sick pay, and a pension scheme. We also have three high quality subsidised day nurseries.
The University is situated in leafy Edgbaston and there are excellent transport links to our beautiful campus, including main bus routes and a train station on site.  On campus we have a state-of-the-art sports centre with pool, shops, places to eat and drink, our own art gallery, museum and botanical gardens.
Find out more about the benefits of working for the University of Birmingham
Job Summary
The post will be hosted within the Healthcare Technologies Institute (HTI) at the University of Birmingham.  This institute has the remit to help mature early-stage technologies to the point of eventual adoption, and achieves this by working with scientists, engineers, clinicians and industry to facilitate all stages of product development.
This post has been created to support the ERDF funded DEMAND Hub project and will play a significant role in supporting the management of the project and liaising with the wider DEMAND Hub delivery team.
This role will be based within the ERDF funded Data-Enabled Medical technologies ANd Devices (DEMAND) Hub project delivered by the University of Birmingham in strategic partnership with UHB Birmingham NHS Foundation Trust.  The DEMAND Hub will deliver scientific services and commercial pathway support in addition to a strong focus on the utility of patient reported outcomes and healthcare data in guiding product design, testing and development, removing barriers for innovative businesses and stratifying product development.
Main Duties/Responsibilities
•    To support Project Boards, workstreams and working groups within an overall project or manage small projects on own.
•    Support will include preparing progress reports for project boards (where they are held), project planning, and delivering on sub-projects/small projects which will be defined on a continuing basis.
•    Draw up project plans, including key performance indicators, identifying milestones as appropriate.
•    Contribute to milestone tracking/key performance indicator tracking.
•    Assisting with stakeholder management and maintaining regular contact with stakeholders to understand requirements, and review, develop and propose solutions for any issues.
•    Appropriately assess and escalate issues and risks.
•    Assist in the management of project resources and/or budgets.
•    Contribute to developing communications plans, presentations, and promoting the projects and outcomes of projects/workstreams.
•    Maintain an up-to-date knowledge of project management methodologies.
•    Determine short term priorities for work, and how to maximise quality, efficiency and continuity.
•    Assist in the evaluation and review of projects.
•    Promotes equality and values diversity acting as a role model and fostering an inclusive working culture.
Person Specification 
•    Qualified to UK level 5 (e.g. Foundation degree, HND) or equivalent.
•    Substantial experience of project management, preferably in an academic setting.
•    Excellent IT skills, with working knowledge of standard Microsoft Office software and using custom systems and databases.
•    Project management experience, preferably using project tools such as Prince 2
•    Knowledge of the protected characteristics of the Equality Act 2010, and how to actively ensure in day-to-day activity in own area that those with protected characteristics are treated equally and fairly.
Planning and organising 
The role will either assist in managing larger projects or will manage smaller projects themselves. They need to forward plan, and deliver project plans, reporting to internal and possibly external stakeholders.  The role is operating within defined requirements, systems and processes, but does consider and recommend improvements.
Problem solving and decision making
This role will be expected to either devise and deliver project plans for small scale projects, or assist in the delivery of larger projects, assess and escalate risk, and make recommendations for improvements.  The focus of the role is on delivery of the project(s).  The role will be likely to operate within constraints set by project leads/project boards.
The role will take the day-to-day operational decisions relating to the project delivery, and will support Project Leads and Project Boards in reaching informed decisions about the project delivery.
Internal and external relationships
The role is a key liaison and co-ordination role on specific project(s), so will have a range of internal and potentially external stakeholders.
•    Internal members of the Project Board
•    External stakeholders such as funders
•    Team members (on larger projects)
•    Other Professional Services colleagues, such as Finance, HR etc.
Informal enquiries can be made to Prof Liam Grover; l.m.grover@bham.ac.uk
Our Values and Behaviours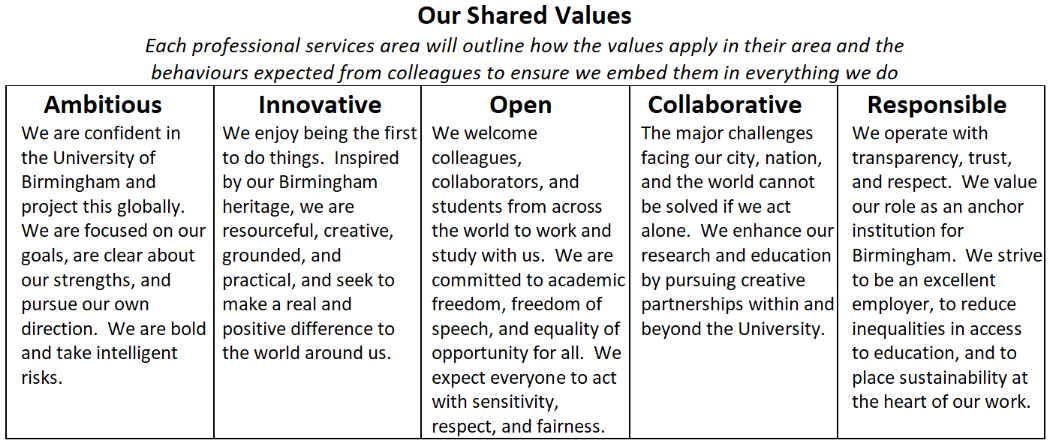 Valuing excellence, sustaining investment
We value diversity and inclusion at the University of Birmingham and welcome applications from all sections of the community and are open to discussions around all forms of flexible working.

Primary Location
 GB-GB-Birmingham
Job
 Specialist/Professional
Organization
 Chemical Engineering
Job Posting
 21.06.2022, 12:00:00 AM
Grade (for job description)
Grade 6
Salary (Pay Basis)
 27,924.00
Advert Close Date
 17.07.2022, 11:59:00 PM
Fixed Term Contract End Date
30.06.2023
Other jobs you may like
Coventry-Binley Business Park