Job Description
Position Details
School of Physics and Astronomy
Location: Birmingham Energy Innovation Centre at Tyseley Energy Park, B25 8JF
Full time starting salary is normally in the range £42,149 to £50,296, with potential progression once in post to £56,587
Grade 8
Full Time / Fixed Term contract up to 14th August , 2023
Closing date: 22nd June, 2022
This post will be part-funded by the European Regional Development Fund
Job Summary:
The Project Manager will have the remit of managing a high value HSBC/ERDF funded project, an energy business incubator, to be based at the University of Birmingham's facility at Tyseley Energy Park. Within this capacity the job will provide strategic direction and management to ensure the Climate Innovation Platform project delivers in line with both key funder and European regional objectives. The Project Manager will be answerable and directly responsible to the Project Director for delivery of all aspects of this project. Through collaboration and the financial support of HSBC/ERDF, the aim is to manage the delivery of a fully comprehensive early-stage energy business incubator support programme that will also deliver innovators into a global sustainability platform.
As Manager for the project, the post holder will be responsible for day to day operational management of the project and the successful delivery of contracted outputs. The task will necessitate co-ordinating and managing the efforts of staff involved in all aspects of project delivery.
The Project Manager will be responsible for ensuring that all HSBC/ERDF requirements for reporting and auditing are met for the duration of the project and will also be responsible to the Project Director for reporting progress on the projects, and for alerting senior management to any major potential threats to project delivery. The Project Manager will be required to ensure that all aspects of project delivery are completed in line with University policies. At times the Project Manager may also be required to advise on Project Management and ERDF regulations to other appropriate School funded projects.
The Project Manager will be responsible for identifying appropriate opportunities for new business that emerge during the delivery of the project. Such opportunities will need to be reported to the relevant College Research and Knowledge Transfer team or to Research Support Services.
Main Duties:
Be responsible for delivery of the project to successful conclusion. Duties include:
• Make major contributions to and shape the strategic direction of the project as a senior manager involved in the delivery of the project, and through active participation on the Project Management Board
• Create and maintain an overall Project Management Plan for the whole project using well established project management principles and practices (creating schedules using PM software where appropriate)
• Using a highly developed knowledge of project and technology management principles and practice, to distribute and delegate tasks to the diverse and extended project team through intermediary management in a timely manner to ensure successful delivery of the project
• Plan, organise and maintain a regular schedule of project review meetings ensuring all relevant parties maintain an adequate level of attendance
• Deploy high level leadership skills and set appropriate quality standards to keep the project on track and to keep the extended team aligned with the strategic objectives of the project
• Establish effective networking relationships with managers at an appropriate level on other projects and corporate services, influencing University leaders to ensure all necessary resources are available and fit for purpose in delivering the project
• Constantly evaluate project activities and make recommendations to the academic lead of Project Director on potential changes to the project plans to ensure the aims of the project are addressed during the delivery of the project and implement improvement solutions
• Proactively identify business opportunities which emerge from the project and are aligned with the ambitions of the
• Be involved in strategic decision making and planning of other ERDF projects.
Monitoring, Evaluation, Reporting, and Dissemination of Project Activity
• Develop a comprehensive evaluation strategy for the project, which is in line with the proposal
• Ensure that all required measurement and evaluation information is gathered by all project partners in a timely fashion
• Establish and implement reporting procedures which meet the requirements of the funders (DLUHC/HSBC), and ensure all necessary data is gathered in a timely and efficient manner
• Receive, referee and peer review project data on a regular basis to ensure that the project stays on course for successful delivery, and provide early visibility of deviations from the project plan
• Referee, edit and deliver reports to ERDF and HSBC in line with the agreed plan, and regularly ensure that the funders are satisfied with the reports and the data provided to them
• Ensure that project participants are all appraised of the information reported to the funders, and of any feedback received
• Provide reports and verbal presentations to the Project Management and Strategic Management Boards to ensure that all members are aware of key points of progress and any issues which need senior management intervention
Financial Management and Reporting
• Ensure records are maintained of match funded contributions, planned expenditure profiles, and cash flow to ensure that the full project value can be recovered from ERDF and HSBC
• Ensure that suitable records of all allowable costs are maintained by the University of Birmingham
• Provide leadership and expertise to colleagues regarding the maintenance of accurate records of expenditure and allowable costs
• Communicate and where appropriate determine and delegate budgets to key task managers
• Ensure appropriate monitoring, control and audit of all project expenditure within the University
• Approve expenditure in line with delegations and the project budget, escalating decisions on any novel contentious issues to the Project Director
• Provide financial reports to the project funders and to the Project Management Board at least quarterly, and more frequently if expenditure materially deviates from the plan in the proposal
Risk Management
• Use own professional expertise to create a project risk register, building on the register produced during project start up and the preparation of the bid
• Determine need to acquire additional independent professional expertise to evaluate risks and/or mitigation options
• Ensure the project risk register is maintained and updated throughout the life of the project
• Regularly update the Project Director on the status of the risk register
• Communicate the risk register with all key task leaders both within and outside the University, influencing senior management to ensure risk mitigation and issues resolution plans are in place and implemented as required
• Establish, lead and promote a culture throughout the project team of providing an early warning to the management team of potential risks
• Deploy appropriate resources across the project team to mitigate risks as they emerge using own experience to determine when this approach is appropriate
Management of Project Staff
• Co-ordinate and prioritise day-to-day workload across the project team to ensure that key deliverables are met in a timely manner
Person Specification
• Degree level qualification in a relevant subject, preferably a further degree
• Considerable project management experience in high technology or research oriented environment, particularly having evidence of successful delivery of projects
• Formal Project Management qualifications such as APMP, Prince 2 or MSP
• Experience of managing large financial budgets along with experience of budget planning and forecasting
• Ability to interpret complex guidelines, rules and regulations. Experience of working to reporting structures and producing audit trails
• Experience of running projects with significant numbers of staff and motivating staff across a wide range of disciplines to deliver to deadlines
• Excellent team-working and communication skills being able to keep the team fully appraised of key issues, and also comfortable in briefing and influencing senior management
• Proven ability to meet targets, milestones and contracted outputs and work to deadlines
• Competent IT user- Microsoft packages, email, internet, and project management tools
Desirable
• Successful delivery of projects for regional or national government and involving match funding contributions from partners
• Experience of technology transfer particularly involving development and transitioning of technology from low/mid high technology readiness levels for use by SMEs
• Significant experience of setting up and managing project record systems so that they meet the needs of the team, the customer, and any audit requirements
• Experience of working with higher education and commercial sectors
• Knowledge and understanding of business engagement and knowledge transfer in the contact of HE sector
• A broad knowledge of raw materials and their processing such that they can understand and interpret the clients' needs
Informal enquires to Rooqia Malik – r.malik@bham.ac.uk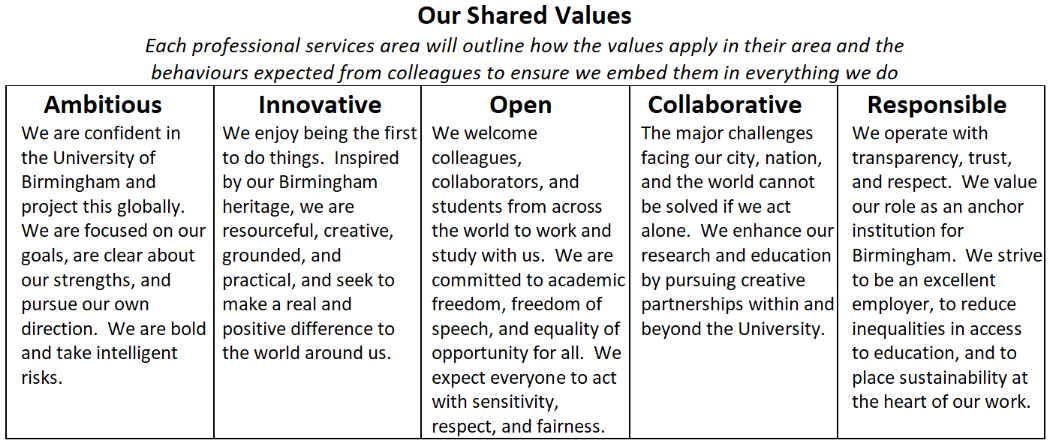 Valuing excellence, sustaining investment
We value diversity and inclusion at the University of Birmingham and welcome applications from all sections of the community and are open to discussions around all forms of flexible working.
Primary Location
 GB-GB-Birmingham
Work Locations
Birmingham Research Park Limited
Research Park
Vincent DriveEdgbaston
Job
 Specialist/Professional
Organization
 Physics and Astronomy
Job Posting
 01.08.2022, 9:16:31 AM
Grade (for job description)
Grade 8
Salary (Pay Basis)
 42,149.00
Advert Close Date
 14.08.2022, 11:59:00 PM
Fixed Term Contract End Date
30.06.2023
Other jobs you may like