Job Description
Position Details
Life and Environemental Sciences
Location: University of Birmingham, Edgbaston, Birmingham UK
Full time starting salary is normally in the range £28,762 to £31,411, with potential progression once in post to £35,333
Grade 6
This is a full time 2 year, fixed term contract.
Closing date: 28 August 2022
Our offer to you
People are at the heart of what we are and do.
The University of Birmingham is proud to have been a part of the City of Birmingham and the wider region for over 100 years, and we are equally proud to be recognised as a leading global university.  We want to attract talented people from across the city and beyond, support them to succeed, and celebrate their success.
We are committed to helping the people who work here to develop through our sector-leading Birmingham Professional programme which provides all professional services staff with development opportunities and the encouragement to reach their full potential.  With almost 5,000 professional services jobs in a wide-range of functions in Edgbaston and in our campus in Dubai, there are plenty of opportunities for you to be able to develop your career at the University.
We believe there is no such thing as a typical member of staff and that diversity is a source of strength that underpins the exchange of ideas, innovation, and debate.  We warmly welcome people from all backgrounds and are committed to fostering an inclusive environment where diversity is at the heart of who and what we are, and how we work.
Supporting our people to achieve a healthy work/life balance is important both to our employees and to the success of the University and, depending on the role, we offer a variety of flexible working arrangements. We therefore welcome discussions on all forms of flexible working.  In addition, you will receive a generous package of benefits including 40 days paid holiday a year, one paid day a year for volunteering, occupational sick pay, and a pension scheme. We also have three high quality subsidised day nurseries.
The University is situated in leafy Edgbaston and there are excellent transport links to our beautiful campus, including main bus routes and a train station on site.  On campus we have a state-of-the-art sports centre with pool, shops, places to eat and drink, our own art gallery, museum and botanical gardens.
Find out more about the benefits of working for the University of Birmingham.
Role Summary
To provide pastoral and education support to students within a School, to ensure that a professional and proactive welfare support service is provided to all in need.
Main Duties
Provide helpful, accurate and expert welfare advice to students on a wide range of issues, tailoring the support service and welfare journey for each student to ensure it meets their needs.  This includes following up with individuals following their use of services, to ensure a professional end-to-end welfare service is delivered.
Liaise with, and refer students to, the wider support services and specialist services in the University as appropriate, for example Student Support, Disability Services, or study skills services. The role will be a key contact and link between the School and other support services.
Develop and deliver a range of communications to all students, prospective students and staff around student wellbeing and support, and regularly review and improve the effectiveness of these.
Maintain records of Student Support Agreements to ensure that they are kept up-to-date and accurate.
Complete all reporting activities in a timely manner to inform and support the School in identifying potential risk and proactive activities.
As the School's primary contact for implementing reasonable adjustments, ensure that the appropriate academic and professional service staff are made aware of all reasonable adjustments to the assessment process.
Inform appropriate academic and professional services staff regarding changes and updates in practice and policy relating to student welfare.
Provide and schedule regular drop-in sessions and clinics for students, so that students have an accessible and available contact point with welfare services.
Acting as the Extenuating Circumstances Officer, submit requests, evidence and advise students in the collation of relevant information to support the Panel's decision-making process.
As the School's dedicated Student Attendance Officer, review and investigate absences to ensure that student welfare issues are proactively identified and managed appropriately.
Provide support to colleagues and students at induction and welcome week and, as appropriate to other relevant student engagement activities.
Promotes equality and values diversity acting as a role model and fostering an inclusive working culture.
Person Specification
Educated to degree level
Experience of working in Higher Education
Understanding of the institutional structures and ways of working in the College and School
Experience of supporting students, preferably in a wellbeing role
Significant understanding of the student experience, issues, and the student lifecycle
Knowledge and experience of managing confidential and sensitive situations with discretion and integrity
Experience of working with confidential data and information, with a working knowledge of data protection policies
Ability to collate and analyse data
Knowledge of the protected characteristics of the Equality Act 2010, and how to actively ensure in day to day activity in own area that those with protected characteristics are treated equally and fairly.
Informal enquires to Grace Page, email: g.page@bham.ac.uk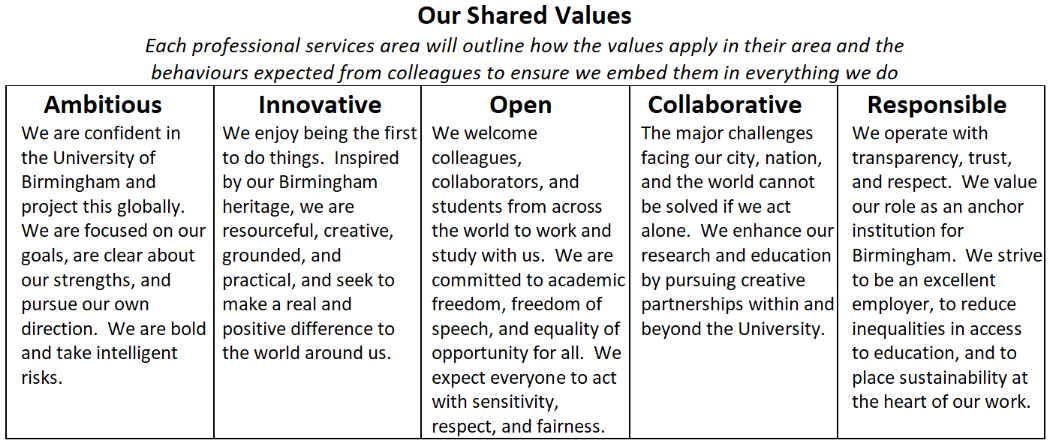 Valuing excellence, sustaining investment
We value diversity and inclusion at the University of Birmingham and welcome applications from all sections of the community and are open to discussions around all forms of flexible working.
Primary Location
 GB-GB-Birmingham
Job
 Clerical/Administrative
Organization
 Life and Environmental Sciences
Job Posting
 29.07.2022, 4:03:18 PM
Grade (for job description)
Grade 6
Salary (Pay Basis)
 28,762.00
Advert Close Date
 28.08.2022, 11:59:00 PM
Other jobs you may like