Job Description
Centre Manager/Business Manager – School of Biosciences – 99853
–
(
2200015V
)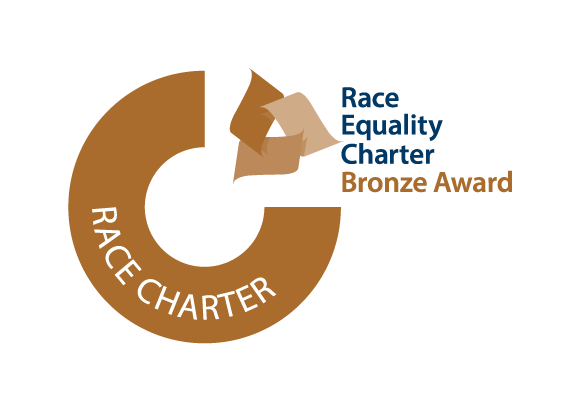 Position Details 
School of Biosciences
Location: University of Birmingham, Edgbaston, Birmingham UK
Full time starting salary is normally in the range £31,406 to £40,927, with potential progression once in post to £43,434
Grade 7
Full Time – Permanent
Closing date: 21st August 2022
Our offer to you
People are at the heart of what we are and do.
The University of Birmingham is proud to have been a part of the City of Birmingham and the wider region for over 100 years, and we are equally proud to be recognised as a leading global university.  We want to attract talented people from across the city and beyond, support them to succeed, and celebrate their success.
We are committed to helping the people who work here to develop through our sector-leading Birmingham Professional programme which provides all professional services staff with development opportunities and the encouragement to reach their full potential.  With almost 5,000 professional services jobs in a wide-range of functions in Edgbaston and in our campus in Dubai, there are plenty of opportunities for you to be able to develop your career at the University.
We believe there is no such thing as a typical member of staff and that diversity is a source of strength that underpins the exchange of ideas, innovation, and debate.  We warmly welcome people from all backgrounds and are committed to fostering an inclusive environment where diversity is at the heart of who and what we are, and how we work.
Supporting our people to achieve a healthy work/life balance is important both to our employees and to the success of the University and, depending on the role, we offer a variety of flexible working arrangements. We therefore welcome discussions on all forms of flexible working.  In addition, you will receive a generous package of benefits including 40 days paid holiday a year, one paid day a year for volunteering, occupational sick pay, and a pension scheme. We also have three high quality subsidised day nurseries.
The University is situated in leafy Edgbaston and there are excellent transport links to our beautiful campus, including main bus routes and a train station on site.  On campus we have a state-of-the-art sports centre with pool, shops, places to eat and drink, our own art gallery, museum and botanical gardens.
Find out more about the benefits of working for the University of Birmingham
Job summary 
The Centre for Environmental Research and Advocacy (CERA) combines modern science and law to make the environment safe from toxic chemicals and to defend people's rights to a healthful environment. Its mission is to help remedy harm to human health and the environment caused by pollution. A scientific objective of the Centre is to advance an emerging field called Precision Toxicology, which utilizes local technological expertise including the Phenome Centre Birmingham (PCB): an internationally recognised metabolomics facility, offering research services to academic, industry, and government partners.
The Centre Manager will manage the administrative, operational, and strategic activities of the CERA (0.75 FTE). The postholder will also function as the Business Manager of PCB (0.25 FTE). The appointee will lead an administrative team to support the CERA's activities by providing project management and administration, event organisation, financial and grant management, communication, and a wide variety of administrative support to numerous stakeholders within the Centre's network (primarily academic/professional staff and facilities). In their role as Business Manager of the PCB they will conduct the day-to-day management of this centre, including leading centre-specific financial, HR, communications, and other operational matters. The postholder will manage an administrative appointee to support this work in the PCB.
Main duties
Strategic
Support both the CERA and PCB's Academic Lead and Senior Management Team in preparing and developing the Centre's strategic plan and monitoring progress towards aims and objectives (e.g., production of business plans across all activities).
Working with the CERA's Senior Management Team in identifying strategic priorities and formulating and actioning appropriate responses.
Review relevant key performance indicators and associated management information to inform changes to future strategy.
Work with senior administrative teams to implement best practices across all administrative areas for both the CERA and PCB, identifying areas requiring development.
Establish and maintain effective working relationships with university stakeholders e.g., Research Support, Finance, HR, IT and Marketing.
Leadership
Provide effective leadership and management of both the CERA's and PCB's administrative team that supports academic delivery, reviewing workloads, resources, and training needs.
Direct line management, motivation, and support of professional services staff.
Responsibility for the motivation, management and flexibility of staff working within the team, instilling confidence in the requirements and importance of relevant functions to ensure that teams work together (internally and externally) to effectively deliver on plans.
Ensure the University of Birmingham, College and Centre policies have been implemented and are operating effectively e.g., Data Protection, Information Security, Research Governance.
Provide expert advice and act as a primary point of contact within CERA with regards to administration. Similarly, to act as the primary point of contact for business activities within PCB.
To establish, support and develop effective network contacts with similar roles across other Schools, Colleges and external to the University of Birmingham.
The postholder will be expected to maintain a professional approach in all their duties. The following link outlines the code of conduct, policies and procedures:  https://www.birmingham.ac.uk/university/governance/publication-scheme/policies-and-procedures.aspx
Personnel and Staff Management
Work with senior HR personnel to ensure effective HR management across both the CERA and PCB, including:

Implementing Quality Assurance processes for Recruitment and Selection of all Centre staff (visa applications, redeployment procedures etc).
Support the Directors and other senior staff with the recruitment processes for staff within the Centre.
Support the initiation of CPAG cases for submission to the College CPAG panel, or alternate Project funded pathways.
Responsibility for Professional Services Performance Management issues, attendance management including sickness monitoring/absence, occupational health referrals and grievance procedures.

Effectively administer the initiation of the renewal and termination of fixed-term and honorary contracts.
Support the Senior Management Team to implement effective procedures and processes regarding the Annual Review / PDRs / and Senior Promotions.
Support the Centre Directors in implementing change management strategies.
Coordinate staff recruitment in both centres, including attending panels, coordination of visa applications and management oversight of effective induction/probation.
Financial Management
Coordinate the relevant annual budgeting review progress against targets, working with the Head of Finance and colleagues to develop a strategic overview of CERA's and the PCB's performance.
Work with heads of finance in managing research post-awards. Regularly review/monitor staff and non-pay costs identifying issues which may need specific financial advice/resolution.
Work with Facilities Managers to oversee costing/pricing for trading activity.
Work with the Business Engagement Managers in identifying new business opportunities.
Ensure education of and adherence to, appropriate financial legislation across the centres.
Academic Activity
Coordinate the timely production of management information, reports and returns for CERA.
Develop and maintain robust project management and monitoring systems for research and
impact activities.
Coordinate support and assistance for research proposals across the Centre network.
Ensure regulatory compliance across the Centre including DPA/HTA/Information Security.
Support academic staff to develop and optimise research governance structures including liaison with University STEM Research Ethics Committee.
Oversee the organisation of bi-annual Scientific Days and regular seminars and events to highlight current and future research and build a vibrant community.
Communications and Events within CERA
Manage the delivery of the event on the day and undertake follow-up activities, including coordination and formatting of event reports and post-event follow-up with participants in attendance.
Coordinate and manage larger events alongside the Events Committee.
Work with Communications Managers in using the most up-to-date technology to publicise the Centre's research.
Support the updating of Centre webpages to ensure accurate information is displayed and key messages are highlighted.
Support for marketing of centre facilities.
Operational
Establish service standards, service level agreements and local policies and procedures for the efficient operation of both CERA and the PCB. Identify collaborative opportunities to ensure consistency/continuity of policies outlining additional "local" requirements.
Serve on both centre's committees and/or advisory groups (as appropriate), supporting administrators to prepare papers and reports as required.
Oversee support for external, regional meetings and networks.
Assist the Senior Management Team in managing relationships with key partners and sponsors.
Review content of both CERA's and PCB's website, publications, and prospectus which relate to areas of administrative responsibility, liaising with relevant staff to ensure that the web presence is current.
Represent the Centre at university-wide meetings, committees and working groups.
Undertake additional Project specific tasks or other duties appropriate to the grade of the role as required by the Senior Management Team and Academic Lead.
Person Specification
Qualifications
University degree, at least to undergraduate degree level or equivalent professional experience and evidence of continuing professional development or further learning.
Appropriate professional management training (e.g., awarded by Institute of Leadership & Management or equivalent).
Formal high-level project management training (e.g., PRINCE2).
Experience
Previous significant experience managing varied, complex projects.
Previous significant experience providing operational, financial, and administrative support to university facilities.
Previous significant experience in supporting a research centre.
Extensive experience working within the higher education sector.
Demonstrable experience managing, supervising, and leading staff.
Demonstrable experience managing large budgets and complex finances.
Experience in data mining and sourcing information, particularly through electronic sources, to inform reporting for strategic planning.
Experience working in a multi-disciplinary environment.
Knowledge and understanding of UK HE funding mechanisms, strategies and priorities.
Social media monitoring, including Twitter, LinkedIn, and blogging. Website management / HMTL & CSS skills.
Abilities and skills
Exceptional report writing skills – ability to write clear and concise formal reports and documents, maintaining high levels of accuracy and attention to detail.
Strong negotiating and persuasion skills.
Excellent analytical skills, with the ability to communicate complex policy matters.
Excellent verbal communication skills – ability to communicate with a wide range of people at all levels, maintaining high levels of accuracy and attention to detail.
Excellent organisational and time-management skills with a demonstrated ability to plan and organise a large workload to meet both internal and external deadlines – working on a variety of complex issues simultaneously.
Excellent interpersonal skills; ability to develop effective working relationships with all levels of staff and external contacts.
Developed leadership skills, with the ability to instil confidence in others.
Assertive and able to think and act decisively.
Ability to work independently and as part of a team.
Ability to work under pressure and maintain a high degree of accuracy.
Able to absorb and deploy new information quickly and accurately.
Informal enquires to John Colbourne, email: j.k.colbourne@bham.ac.uk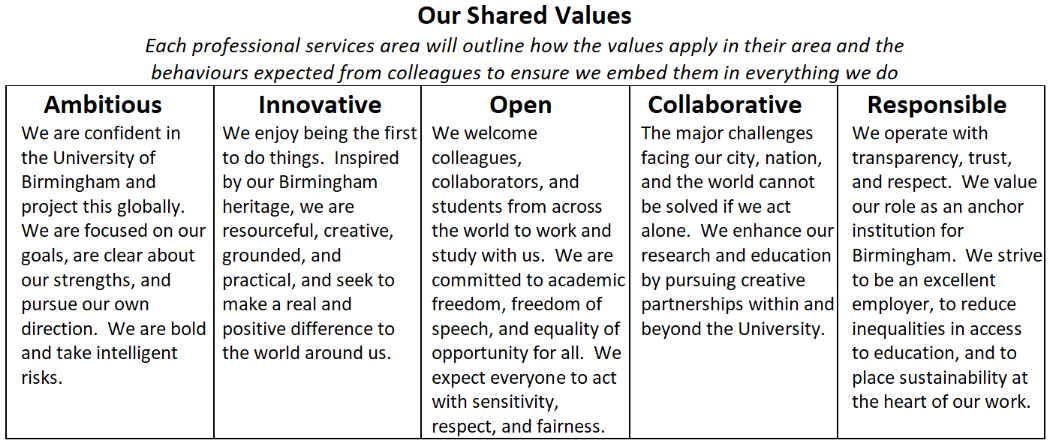 Valuing excellence, sustaining investment 
We value diversity and inclusion at the University of Birmingham and welcome applications from all sections of the community and are open to discussions around all forms of flexible working. 
Primary Location
 GB-GB-Birmingham
Job Posting
 21.07.2022, 2:17:16 PM
Grade (for job description)
Grade 7
Salary (Pay Basis)
 31,406.00
Advert Close Date
 21.08.2022, 11:59:00 PM
Other jobs you may like